5 ideas to make your bedroom more elegant
How to make the bedroom elegant and refined with the right bedding
The bedroom is one of the most important rooms of the house, an intimate and personal space dedicated to moments of rest and relaxation. This is why it is important to create an environment that is comfortable and welcoming, and that reflects your style and personality. The choice of the bed and other furniture is essential to better organize the space and ensure a healthy and regenerating rest, but also the choice of bed linen and accessories is equally important to furnish the sleeping area. Sheets, bedspreads, quilts but also elegant pillows can help to completely transform the environment and give a personal and refined touch to your room.
Let's see together 5 ideas to make the bedroom elegant and some useful tips to turn it into an oasis of comfort and serenity. Whether you prefer a classic or a more modern style, among Blumarine Home's proposals you will surely find inspiration to better decorate your spaces.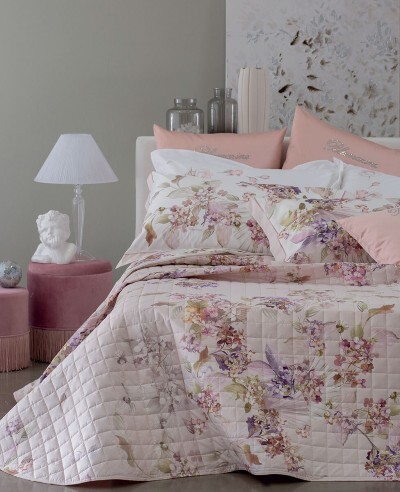 How to decorate the bedroom: some useful tips
Furnishing the bedroom in the best possible way, carefully choosing furniture and accessories, is essential to create a functional and comfortable space, without forgetting the design and aesthetic performance, that are equally important aspects to create an environment that reflects your tastes and your personality. One of the first elements to consider to furnish the sleeping area is definitely the choice of bed. To ensure a comfortable rest, choose a bed made of quality materials, with a comfortable mattress and a design that suits your style and the atmosphere you would like to create in the bedroom.
If the room is small, you can opt for a storage bed, ideal for optimizing space and storing linen, blankets, clothes or other items you may need in the bedroom.
​​To keep your bedroom well organized and clutter-free, choose practical and functional furniture, such as bedside tables with drawers and a wardrobe with several doors and compartments, to keep your clothes and personal items in order. In general, try to opt for quality furniture with a nice design, classic or modern depending on the characteristics of your room. Instead, avoid overloading the room with too much furniture, choosing essential pieces that fit together well.
Another important aspect to furnish the bedroom is the choice of bed linen, which should be made of soft and breathable fabrics, ideal for any season of the year. Choose colors and patterns that match the rest of the furniture and the colors of the walls and other furnishings to make the environment more cozy and refined.
To complete the furniture and give an extra touch of class to the sleeping area you can add one or more rugs: they will give more warmth and comfort to the environment, completely transforming even the most minimal environments. Depending on your tastes and the characteristics of the environment you can also add additional details and decorations that reflect your personality. Paintings, mirrors, scented candles or plants can make the bedroom more cozy and personal. Choose a style that you like and respect it for the decor of the entire bedroom: you can opt for a classic, modern, boho or shabby chic style, and, depending on your preferences, add bed linen and accessories that best reflect it.
5 ideas to make the bedroom elegant
If you are looking for ideas and solutions to make the bedroom elegant, here are some ideas that can help you create the atmosphere you want and furnish the sleeping area by combining functionality, originality and style:
Elegant bed linen: how to match colors and patterns
The combination of colors and patterns of bed linen is essential to create a cozy and stylistically harmonious environment in the sleeping area. A careful choice of sheets, bedspreads and pillows can transform the appearance of the room, adding elegance and personality. To create the right combinations, first consider the colors of the walls and furnishings and think about the atmosphere you would like to create in the bedroom. Start by creating a relaxing color palette: opt for neutral shades like white, beige, gray or blue. These colors will create a peaceful and serene atmosphere in your room, favoring a restful sleep.
If you want to add a touch of color to your bedding, do it through accessories like decorative pillows or plaids, or opt for a contrasting bedspread. Choose complementary colors to your main palette to create a harmonious and eye-catching contrast.

If you want to buy fancy bed linen or sheets, try to do it in a balanced way: if you have chosen a bedspread with bold patterns, for example, opt for simpler plain colored sheets and pillows. On the contrary, if sheets are printed, use a neutral bedspread to achieve a more homogeneous effect and avoid excessive contrasts.
Finally, make sure your choice of colors and patterns harmonize with the rest of the room. Consider the walls, furniture and decorative objects already present, trying to create visual continuity. The goal is to achieve a consistent and eye-pleasing appearance. Unleash your creativity and try different combinations of colors and patterns until you find the one that suits you the most. Remember that bed linen is easily interchangeable, so you can always make changes whenever you want!