Summer bedspread: how to choose it?
Guide to choosing the summer bedspread to furnish your sleeping area with style
Summer is coming. To spend peaceful nights and have a cool and comfortable rest even in the warmer months, you will have to furnish your bedroom and choose the sheets and bed linen most suitable for this period. The bedspread is an indispensable element in the sleeping area, even in summer: in addition to protecting the sheets it also has an aesthetic function and, if chosen with care, can add a unique and personal touch to even the most classic or minimal bedrooms.
Compared to quilted bedspreads, ideal for winter and mid-seasons, summer bedspreads are lighter and made with materials designed to ensure greater freshness and breathability, thus giving greater comfort in the warmer months.
Choosing the most suitable bedspread for the summer may seem simple, but in reality there are several aspects to consider before buying. Here are some useful tips to help you find the perfect model for you and decorate your sleeping area.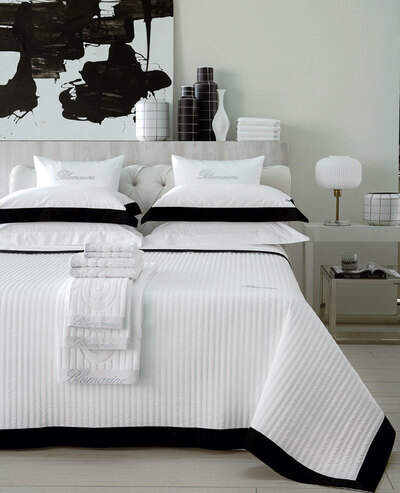 What aspects to consider when choosing a summer bedspread
Before purchasing a bedspread for the summer you will need to carefully consider several aspects. The choice of the bedspread, and bed linen in general, can in fact greatly affect the comfort and quality of rest. Among the factors you will need to consider to choose the most suitable summer bedspread for your needs are:
the material, one of the first aspects to consider when choosing a bedspread. Ideally, you should look for a breathable, lightweight fabric that is cool and comfortable, even on the hottest nights. Among the most suitable materials for summer bedspreads, whether they are single, double or queen size, there are certainly cotton and cotton percale, very used because they are soft, light and breathable. In addition, they are easy to wash and tend to retain the original shape even after several washes. The choice of material also depends on personal tastes, the level of comfort and the effect that you want to get in the bedroom;
size, another important factor to consider. It is important to choose a bedspread that fits your bed perfectly, without being too large or too small. In general, you can find both summer double bedspreads (270x270 cm), single (180x270 cm) or queen size bedspreads (220x270 cm), depending on your needs;
colors and design, which you will have to choose according to your preferences and your tastes, but also the colors of other furnishing accessories and the characteristics of your sleeping area. From classic solid color bedspreads to pastel colors or models with floral, striped or geometric patterns: the choice is really wide. To give an elegant and refined touch to your bedroom you can also choose a bedspread embellished with embroidery, applications or Swarovski crystals, such as those proposed by Blumarine Home;
weight, which is another important factor to consider. In general, for the summer you should look for a light and breathable bedcover, that does not make you sweat at night;
easy washing: it is important to consider the instructions for washing the summer bedspread. Some fabrics require special care and may be particularly delicate and unsuitable for machine washing. Also, if you have allergies or skin sensitivity, you should look for a bedspread that is easy to wash and does not require the use of aggressive detergents.
To find the most suitable summer bedspread for your needs, you will need to carefully evaluate all these factors. In general, try to choose a good quality product, which can guarantee you a comfortable rest and, at the same time, enhance your bedroom.
Summer bedspread: ideas and combinations for your bedroom
Colorful and cheerful, or more elegant and refined: matched in the right way the bedspread can help to completely change the appearance of a room and make the environment even more pleasant. To create a cozy atmosphere and enhance your bedroom, the colors you choose for the summer bedspread should be clear and bright. Pastel colors such as pink, light blue, mint green and light yellow are the best choices for the summer, to create a relaxing atmosphere and give brightness to the sleeping area.
Depending on your preferences, the colors of the furniture and the size of the bed, you can choose a summer double bedspread in solid color, such as the Lory Piquet bedspread with Blumarine logo in Swarovski crystals, perfect to give a touch of elegance and refinement to your room, or a single summer bedspread in solid color as the single Delfina unquilted bedspread with crystal logo, available in shades of gray, pink and beige. The solid bedspreads are easy to match and can enhance bedrooms in classic or modern style, but also those more elegant, minimalist or eclectic.
If your room has soft colors, you can play with contrasts and choose a bedspread with brighter or patterned shades. You can also opt for summer prints such as flowers, leaves and geometric patterns, inspired by summer colors, such as green, yellow or pink. Summer bedspreads with floral patterns, such as the Labuan bedspread or the Beatrice double bedspread are perfect for classic bedrooms, or to make more elegant and bright modern and minimal environments. In summer you can also opt for patterns and colors that remind the sea and the relaxing atmosphere of the holidays, such as green and blue.
If you prefer a more minimal style, you can choose a bedspread with geometric patterns, such as the Selin double bedspread in shades of light blue or powder, or a two-tone bedspread like the Grand Hotel model, available in different colors. Neutral shades such as white, butter and pearl with contrasting edges are always a safe choice and can easily be combined with any bed sheet. To create a more modern and cheerful atmosphere you can opt for bright color palettes, such as blue and pink, perhaps combining the bedspread with pillows, carpets, table lamps or other decorative elements.
Match the bedspread with pillows
Pillows are another important element in the bedroom. To match the summer bedspread with pillows, try to prefer models with complementary patterns and colors. Alternatively, you can choose cushions with shades similar to that of the bedspread to achieve a more refined monochrome effect. Note Blu cushions in solid color are the ideal choice to create the perfect match in your bedroom: they are available in many colors, from the most delicate to the brightest, and can fit all bedspreads and coordinates, both single and double.
If you prefer, you can also choose cushions with different textures or patterns, such as the Sharon cushion with jacquard designs and Blumarine logo in Swarovski crystals, ideal for adding an extra touch of elegance to your bedroom.
For a complete look, you can match the summer bedspread with light sheets and a summer carpet. Choose sheets in complementary colors to the bedspread and a carpet with marine prints or with leaves or flowers, to create a perfect summer atmosphere.